The English Cocker Spaniel is a good-natured merry fellow with a temperament of a hunter, an incredible beauty of color, and a cute little face. A dedicated breed of dog ideal for the home.
Origin United Kingdom, Growth 20 - 40 cm., Weight 10 - 20 kg.
Lifespan 10-15 years
Popularity
Wool length
Size
Health
Mind and wit
Name of the breed: English Cocker Spaniel
Fit for allergics: No
For families with children: Yes
Difficulty of care: Yes
Dog guard: No
Guide-dog: Yes
Ability to train: Yes

Interesting breed facts
English Cocker Spaniel has a heightened sensitivity. Given this fact, you should not shout at a dog and even more so apply physical punishment.
The English Cocker Spaniel has a wonderful scent, thanks to which they are very often used in the work of customs and the police.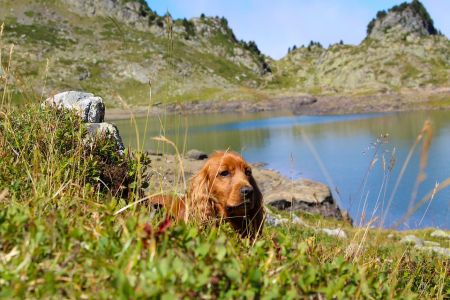 Dogs of this breed just love comfort. A rug somewhere in the corner doesn't suit them. To him, a cocker would prefer a master sofa or a cozy chair.
Often, dogs of this breed can be seen in movies and literature. For example, the English Cocker is a pet of Dr. Mortimer in the film The Hound of the Baskervilles, as well as the central hero of Andryushchenko's book My Name is Brigantine.
Where does the English Cocker Spaniel come from?
The breed was artificially bred in England in the 19th century as a result of the interbreeding of Spanish dogs with breeds like the king charles. Since 1902, it is an officially registered breed with a clearly defined standard frame. Modern members of the breed are the most popular among the spaniels and are recognized as ideal pets for the home.

Breed characteristics
The English Cocker Spaniel is a small dog with a muscular physique. Average growth values ​​range from 38-41 cm, and weight is about 12-14 kg. The dog has a geometrically regular elongated muzzle.
Ears are the hallmark of this breed. They are long and with wavy hair. Eyes are round. A kind of continuation of the back is located slightly below the tail. On the paws are membranes that help the dog to swim perfectly.
The coat is of medium length, very soft, tight to the body, wavy. Allowed coat color of red, fawn, black, brown. In general, there are no clear restrictions on color.
Care, feeding, training
The owner must understand that this breed requires special care. It is recommended to comb it daily with a special brush. Besides the fact that it contributes to the preservation of a beautiful and healthy type of wool, the dogs of this breed just adore this occupation and are very grateful to those who care for them.
It should be bathed about once a week, trimming is obligatory. Ears require special attention: they should not be allowed to get wet all the time since the risk of developing infections is high.
In drawing up the diet, you need to take into account the fact that these four-legged ones are quite voracious, which is why you should not feed them every time they ask. The best feeding option is the balance between dry food and natural food. Be sure to give meat, fish, cereals, vegetables and fruits.
The English Cocker Spaniel is a very fun, playful and active dog. At the same time, it is distinguished by its waywardness, which requires training from an early age. Due to the fact that the original function of the spaniel was hunting side by side with its owner, this breed requires maximum attention.
You need to be prepared for frequent active walks in the fresh air, as well as the fact that the dog basically does not like to be alone for a long time.
Do you like this breed? Choose a suitable offer on PetGlobals.com!
We collected the advertisements from all around the world and placed them on international platform for buying/selling pets. Only on our Web-site you can find the most rare breeds of cats and dogs!
Advertisements for buying/selling cats
Advertisements for buying/selling dogs
With help of PetGlobals.com your future pet is closer to you!